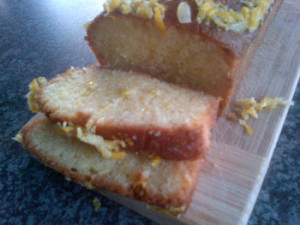 This delicious lemon drizzle Banting cake recipe is also gluten-free & Paleo friendly.
Not only does it taste really good, but it is a really simple Banting cake recipe that provides you with a healthy gluten-free alternative when you need something tasty for tea or parties.
The only problem with this lemon drizzle cake is that you will find yourself taking way more tea breaks than you used to.
Don't worry if you do though as it's a lot healthier than the cakes you'll find in your local bakery – and just as tasty.
Lemon Drizzle Banting Cake Recipe
Ingredients
175g Xylitol (or similar Banting or Paleo friendly sweetener)
175g Butter (unsalted, organic from grass fed cows)
3 Lemons
3 Eggs
100g gluten-free self raising flour
75g ground almonds
1 tablespoon full cream milk (goats' milk for Paleo)
100g Xylitol (for the lemon drizzle topping)
Method

Grease & line a loaf tin
Pre-heat oven to 180°
Beat the butter & xylitol together until light and creamy
Add the grated lemon zest of 2 lemons to the creamed mixture & mix.
Add the eggs to the mixture & beat thoroughly.
Add the gluten-free self raising flour & ground almonds to the mixture and fold in.
Add the full cream milk (or goats' milk to keep it Paleo friendly) and stir.
Pour the mixture into your prepared loaf tin
Bake for just under an hour (50 to 55 minutes depending on your oven) – you can test whether its cooked by testing with a cocktail stick or knife through the sponge, leave it for a few seconds & then remove – if it's totally clean it's cooked however if it's still a little sticky leave it in for a few more minutes.
Prepare the lemon drizzle whilst the cake is baking by using the lemon zest from the third lemon and the juice from 2 lemons.   Mix together and leave to stand until your cake is done.
Immediately that the cake is removed from the oven,  poke holes all over the top and pour the lemon zest mixture over the cake.  The holes will absorb the mixture & ensure a deliciously moist cake.
Once the cake has cooled completely you can remove it from the tin & serve.
PS. Want More Low-Carb Banting & Paleo Recipes?

Download This Collection Of Banting Styled LCHF Paleo Recipes & 8-Week Meal Plan here »