Low Carb Banting Bread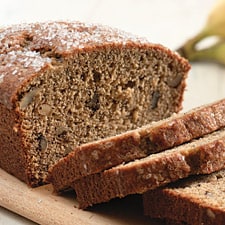 This Banting bread makes the ideal healthy low-carb alternative for those of us on the Tim Noakes Banting diet.
Not only is this Banting bread really tasty, but it's of the low-carb & gluten-free variety which is ideal for those who are watching their weight & blood sugar levels.
Furthermore, giving up bread is one of the most difficult foods to stop eating, & substituting white bread (the most unhealthy type) with health bread, rye or whole wheat bread isn't good enough – they're all bad for you.
They all have a high carb & gluten content and will still leave you feeling bloated & uncomfortable, not to mention causing weight gain & other health issues.
The good news is that you can make your own low-carb Banting bread that carries almost zero carbs (less than 50g) and tastes really good.
Banting Carb-Free Bread Recipe
Ingredients
5 egg whites
2 whole eggs
2 cups of milled flaxseed (there's a dark & a light variety of flaxseed – both have the same nutritional value but produce either dark or lighter bread respectively)
5 tbsp coconut oil (or olive oil)
1 tbsp baking powder
1 tsp salt
½ cup water
3g of stevia (

sweetener, xylitol, sugar substitute)
Preparation
Preheat oven to 180

°C

Blend the dry ingredients together in a food processor ( it's not advisable to do this by hand as you may not be able to combine the ingredients thoroughly enough which may prevent rising of the bread)
Add the wet ingredients to the food processor & blend together until it forms a batter.
Pour the mixture into a greased bread tin & bake for approximately 30 minutes or until cooked through – check this by using a skewer
Remove the loaf from the tin & place it on a board & allow it to cool
Once it has cooled properly you will be able to slice it & store it in a fridge or freezer
For extra flavouring you can add any flavours of your choice or even add some cheese or vegetables to the mixture and even seeds.
It is also worth mentioning that this bread also toasts very well, so if you have been missing your toasted sandwiches don't worry, you can have your favourite toasties again.
Health Benefits Of Using Flaxseed In This Bread Recipe
This bread recipes offers an additional health punch as flaxseed is;
high in omega-3 essential fatty acids
high in fibre
high in antioxidants
PS. Want more low-carb, gluten-free recipes?

Take a look at this collection of delicious LCHF Paleo Recipes which could help you achieve your health & weight loss goals sooner than you think…