Cauliflower Pizza Recipe
This cauliflower pizza recipe is the ideal alternative for people like me who try to eat healthily but find that giving up our favourite pizza is just one bridge too far.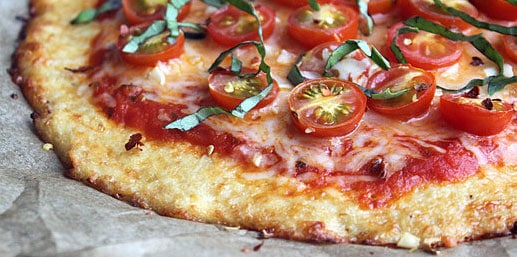 So if you're like me, when it comes to pizza, you'll be glad to know that not only can you can make your own delicious cauliflower pizza, but it will be completely Paleo & Banting friendly as well.
Furthermore, not only will this cauliflower pizza base be of the healthy low-carb variety, but it's also gluten free which is great news for those of us who are wheat intolerant or celiac sufferers
Actually, at best gluten is just plain bad for us humans, but at worst it is absolutely dangerous.
So without further ado, here is your delicious cauliflower powered, gluten-free pizza recipe…
Cauliflower Pizza Base
Ingredients
½ head of cauliflower (approx 4 cups of cauliflower florets)
1 egg
1 Cup grated mozzarella cheese
2 Tbsp parmesan cheese
¼ Cup tomato puree
1 Cup grape tomatoes
2 Cloves garlic
¼ Tsp red peppers
Salt & pepper
Basil leaves
Preparation
Preheat your oven to 425ºF
Line a rimmed baking tin with greaseproof paper
Grate the head of cauliflower by hand or in a food processor
Place the grated cups of cauliflower crumbles in a large bowl and microwave for seven to eight minutes until soft & allow to cool.
Mix the egg together with the mozzarella & parmesan cheese into the cooked cauliflower with some salt & pepper.
Once properly combined place the mixture into the baking tin & pat it down into a circle onto a pizza pan.
Be sure to spray the pan lightly with Spray & Cook or a similar nonstick spray
Bake the pizza base 10 to 15 minutes until golden.
Top your cooked pizza base with your favourite toppings, for instance the sauce, mozzarella, sliced grape tomatoes, garlic & red pepper flakes etc.
Bake in the oven for roughly 10 minutes until it's nicely melted and crispy around the edges.
Sprinkle with basil leaves before serving
---
Support Your Healthy Way Of Eating With This Fantastic Collection Of Banting Styled LCHF Paleo Recipes
»
(including an 8-Week Meal Plan)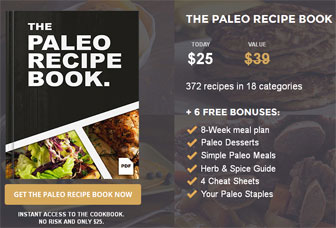 ---