Tim Noakes Banting Cauliflower Rice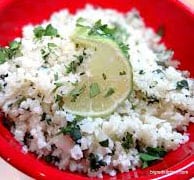 For those of us on the Tim Noakes Banting diet but who really miss having white rice with curries, mince or stews, then this recipe is for you.
In fact this Banting cauliflower rice recipe not only provides you with such a great alternative to white rice, but it is a perfectly healthy side that can compliment so many dishes and, to top it all, it is just so easy & quick to prepare.
Furthermore, this Cauli Rice is so good that it will have you thinking that you are eating the real thing whilst allowing you to maintain your Banting or Paleo diet regimen & avoiding consuming a nasty simple carbs such as white rice – which, admittedly, we all love despite it being really bad for us.
Cauliflower Rice Recipe
Ingredients
1 head of cauliflower or 4 cups of cauliflower florets
1 onion
100g butter, coconut oil, tbsp of cooking fat or ghee – your choice
1 tsp sea salt or salted water
Preparation
Chop up the cauliflower & pulse it in your food processor until it is evenly chopped – don't overdo it that it becomes too fine.
If you want to prepare extra cauliflower to use for meals in the week you can store it in a glass container or a ziplock bag
Melt the butter or coconut oil (or whatever you choose as above) in a frying pan & saute the onion until it is soft.
Add the chopped cauliflower and stir it up with the onion & butter.
Place the lid on the frying pan whilst setting the heat on low or medium and leave it to cook for between 5 to 8 minutes.
Add some lemon juice if you like as well as salt & pepper for seasoning.
Serve right away or set aside for later.
Lastly, it is worth noting that you can eat this Cauli-Rice with just about anything as you would with normal rice but just remember that it doesn't need to be cooked with water as real rice does.
PS. For more healthy low-carb, gluten-free recipes take a look at this collection of LCHF Paleo Recipes which could help you achieve your health & weight loss goals sooner than you think