For many of us Paleo & Banting diet converts, one of the hardest parts of maintaining a healthy diet is not being allowed to eat bread or other baked foods & treats that are made with flour.
Well fear not, you do not have to go without bread any longer as this gluten free bread recipe makes bread that tastes better & healthier than that evil gluten rich bread you have been used to eating.
I can hear you saying "how on earth can bread be made without grain & dairy?"…
… but remember that Paleo friendly gluten-free bread can be made with more wholesome & nutritional substitutes & ingredients like coconut flour, eggs, nuts, potato starch that all go towards producing a fantastic healthy loaf of bread.
so without further ado, here's our gluten free, Paleo friendly sandwich bread recipe which can be sliced & toasted easily…
Gluten Free Bread Recipe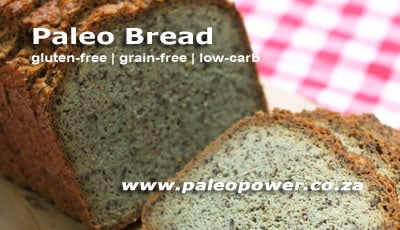 Ingredients
3 tbsp coconut flour
1 tsp baking soda
1/2 tsp sea salt
1/4 cup ground golden flaxseed
3/4 cup almond butter (which you can make yourself by placing organic almonds in a processor & grinding for about 30 minutes until a smooth almond paste/butter is formed – that's it)
6 eggs (free-range)
2 tbsp natural honey
1/4 cup coconut oil
1/2 tsp apple cider vinegar
Baking Instructions
Preheat your oven to 350°F and have a standard bread pan greased with coconut oil ready for the mixture.
Mix the almond butter, eggs, honey, coconut oil & apple cider vinegar together in a large mixing bowl with a blender.
Combine the coconut flour, baking soda, flaxseed & sea salt together and mix it into the mixture above.
Pour the mixture into the greased bread pan & bake it for between 35 & 40 minutes.
Once you have removed the baked bread from the oven allow it to cool completely before attempting to slice it.
After it has cooled completely store it at room temperature in an airtight container for 3-4 days or refrigerate for up to a week before eating.
Want More Paleo & Gluten-Free Recipes?

Download This Fantastic Collection Of Gluten-Free Paleo recipes here »