These gluten free crunchies provide you with a tasty snack for tea or in front of the telly in the evenings when you're feeling peckish.
The recipe for these crunchies is not only totally free of gluten, but also really easy to make.
Just a quick warning, you'll find it difficult to stop if you start eating them fresh out of the oven.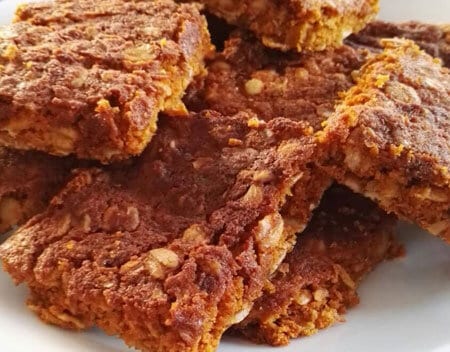 Recipe For Gluten Free Crunchies
Ingredients
2 cups gluten free oats
¾ cup xylitol (in place of sugar)
1 cup coconut
1 cup rice flour
250 grams unsalted butter
3 tablespoons golden syrup
1 tsp bi-carb
Preparation
 Preheat your oven to 180 deg C  (360 deg F)
Grease baking tray
Place the dry ingredients (above) in a large mixing bowl
Melt the butter & golden syrup together in a small saucepan
Remove from heat as soon as melted
Add 1 teaspoon of bi-carb to melted ingredients
Mix well and add to dry ingredients
Pour onto baking tray and flatten with damp hands until level
Bake for approximately 20 minutes until golden in colour
Remove from the oven and allow to cool on the baking tray.
Note that the crunchies will be soft to touch when first removed from the oven but will become crunchy when cooled.
It is also best to cut into squares whilst still a little warm for the best looking crunchies.
PS. Want More 100% Gluten-Free Recipes?

Download This Massive Collection Of Gluten-Free Paleo Recipes here »