NBA Superstars LeBron James, Ray Allen & Dwayne Wade Take To Paleo Diet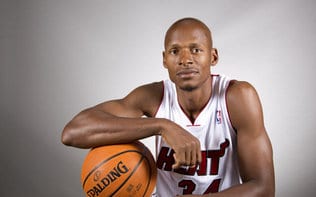 NBA superstars including LeBron James, Ray Allen & Dwayne Wade have experienced significant weight loss since embarking on their low-carb Paleo styled diets.
In fact LeBron James recently made the headlines when he showed off his dramatic weight loss after following his new low-carb diet.
Diet exper Dr Jeff Volek, a professor at Ohio State University, said low-carb, high-fat diets such as the Paleo diet are becoming more & more popular with athletes for managing their weight & reducing their bodies' fat composition.
In other words, on this diet they are carrying less fat & weight and can therefore get more out of their bodies in terms of athletic performance as they would have a better power to weight ratio.
It was reported that Ray Allen, who started eating according to the Paleo diet in 2013, realised such a massive improvement in his health that this inspired his Miami Heat teamate, Ray Allen to go Paleo.
Ray Allen, who was already pushing 40, returned after the summer break in noticeably better shape (he lost around 10 lbs) than he had been in the previous season after following the low-carb Paleo diet.
Whilst, health improvements combined with weight loss are often experienced by Paleo dieters, Ray's main hope was to realise improvements in his energy & fitness levels.
Not only did he feel better on the Paleo diet plan, but his stamina improved as did his recovery after training & working out.
This started to have a domino effect on other NBA stars like Dwayne Wade who was convinced to go Paleo after seeing the remarkable effect it had on his teammate, Ray.
How Does Paleo Eating Cause This Weight Loss?
Briefly, for those who don't know, research suggests that the Paleo diet reduces weight & helps to prevent modern day diseases such as type-2 diabetes, heart disease & obesity.
Still not convinced, well just recently it was reported that another star, New York Knicks player Carmelo Anthony, revealed that he had realsied significant weight loss after ditching the carbs & going Paleo.
So judge for yourself, but with overwhelming evidence of the massive weight loss & health benefits people are enjoying by following the Paleo diet it could be worth looking into if you just want to improve your health or lose weight.
This guide to Paleo eating will help you avoid the usual pitfalls when it comes to dieting and ensure that you won't regain the weight once you've achieved that slim & sexy body