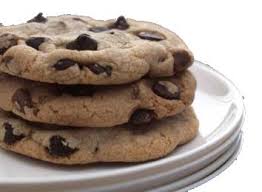 Being on the Paleo diet doesn't mean that you can't treat yourself to these Paleo choc chip cookies.
In fact there are plenty of delicious Paleo treats that you can indulge in that won't have you piling on the fat as they aren't full of cane sugar, processed foods or other nasty chemicals.
These homemade Paleo choc-chip cookies are really delicious, quick & easy to bake and 100% Paleo friendly.
Paleo Choc Chip Cookie Recipe
Ingredients
¼ Cup of coconut sugar (you can increase the amount of sugar if you have a sweet tooth)
125g Butter
1 Egg
1½ Cups of gluten-free flour
1 Tsp of baking powder
1 Cup chopped 80% chocolate or choc chips
Instructions
Melt butter & sugar in a saucepan
Let the mixture cool a little
Add the egg and beat well
Add the gluten-free flour, baking powder & lastly the chocolate chips
Place spoonfuls of the mixture on a greased baking tray and flatten – leave enough space between each one for spreading
Bake the cookies at 180° for approximately 15 minutes
Want More Low-Carb Healthy Paleo Snacks?

Download these delicious sweet & savoury Paleo snacks & treats here  »