Paleo Spaghetti Squash With Meat Balls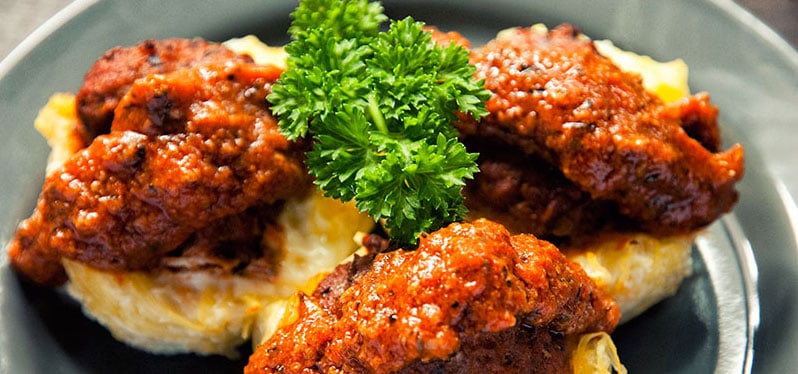 This is a great recipe that provides a really taste dish that replaces those nasty simple pasta carbs with a more healthy & even tastier alternative.
The visual impact of this dish is important as the cooked "spaghetti" squash strands almost has you believing that you're eating spaghetti.
Cooking the squash first in the microwave and then in a skillet to cook off the extra moisture, gives the squash a more spaghetti-like texture.
For Convenience Get This Collection Of 350 Approved Paleo Recipes Downloaded Directly To Your Computer, iPad or iPhone To Enable You To Serve a Wide Variety Of Delicious Paleo Dishes…

Download Your Collection Of 350 Paleo Recipes & 8-Week Meal Plan here »
Spaghetti Squash & Meatballs Recipe
Ingredients
1 large spaghetti squash (or 2 smaller ones)
1 lb. ground beef
4 egg whites, whisked
1 egg
½ cup dried parsley
½ tbsp dried basil
½ tbsp dried thyme
4 large cloves garlic, minced
cooking fat (Paleo friendly such as duck fat, ghee, avocado, olive oil or lard)
Sea salt & ground black pepper
Directions
Preheat your oven to 220°C
Cut the spaghetti squash in half & remove the seeds
Place the spaghetti squash face down on a baking sheet & bake for half an hour until its soft
Once the spaghetti squash is cooked, use a large spoon to scoop the stringy pulp from the squash and place in a bowl
Combine the ground beef, dried parsley, dried basil, dried thyme & the egg – season to taste with salt & pepper.
With your hands form the meat into meatballs of about 2cm to 3cm in diameter
In a large skillet placed over a medium heat, sauté the meatballs until browned on all sides
Add the tomato sauce to the meatballs & cook for 10 minutes to ensure the meatballs are cooked through.
Lower the oven's heat to 175°C
Mix the egg white with the spaghetti squash
Using a muffin baking tin fill each cavity with the squash mix, pressing down in the middle to making a neat nest in each one for a meat ball
Then place the baking tin in the oven for about 15 minutes
Serve with sauce if required
Ingredients & Directions For Your Sauce
2 cups tomato sauce
1 garlic clove, minced
½ tbsp dried parsley
½ tbsp dried basil
½ tbsp dried thyme
Sea salt and freshly ground black pepper
Combine all the ingredients for the tomato sauce and season to taste in a bowl
Add the tomato sauce to the browned meatballs in the skillet and cook for 7 to 10 minutes, or until the meatballs are cooked through
Want More Delicious Paleo Recipes?

Get access to this 8-week Paleo meal plan as well as over 350 delicious Paleo recipes here…