Banting & Paleo Mayo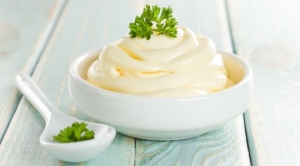 Unlike this Banting mayonnaise, many salad dressings and mayo contains toxic vegetable oils such as sunflower, safflower and canola.
This Banting mayonnaise recipe is also sugar free & Paleo friendly.
Many mayonnaise recipes contain harmful vegetable oils which we have become conditioned into believing are good for us and that butter, coconut oil & lard are harmful & the main reason for weight gain, clogged arteries & heart disease.
However, this is just hogwash as not only does the saturated fat, contained in this Banting Mayonnaise recipe, not cause obesity or heart disease, but it is actually good for you & your health unlike those harmful trans-fats often found in regular mayonnaise.
Just remember that all vegetable oils are strictly against Banting principles so if you believe in Banting & Tim Noakes then avoid these toxic substances religiously.
Anyway, back to making our tasty Banting mayo recipe without the harmful vegetable oils.
Banting Mayonnaise Recipe
Ingredients
1 whole egg
2 egg yolks
1 tbsp Dijon mustard
1 tbsp lemon juice
½ cup of coconut oil
½ cup olive oil
1 tbsp greek yogurt
¼ tsp of salt & pepper
Preparation
Combine the eggs, mustard & lemon juice in a food processor
Melt the coconut oil just until it liquifies
Slowly pour the coconut & olive oil into the mixture in the food processor whilst increasing the processor's speed
Once the mayo mixture has emulsified add the Greek yogurt, salt & pepper – actually you can add your own choice of seasoning & flavour combinations depending on your own taste preferences.
Pour the mayo into a jar and keep refrigerated
Your Banting mayo should be used within a week as it won't keep for much longer than that.
This recipe will produce about 400ml of mayo but if you add more yogurt or coconut oil you will be able to make it go further.
PS. For more low-carb, gluten-free recipes take a look at this collection of LCHF Paleo Recipes here »