The Controversy & Debate Over Tim Noakes' Low Carb Diet
Professor Tim Noakes has been bombarded with a certain degree of criticism from his peers after his well publicised about-turn on his previous views of advocating a high-carb diet, to now saying that carbohydrates are addictive & could pose serious health risks such as obesity, heart disease & diabetes.
In fact he is being accused of encouraging incompetent and pseudo-scientific thinking on scientific matters that could have all sorts of people following an eating plan that has no long term data to rely on.
Despite this onslaught, Noakes is sticking to his guns and remains convinced that choosing a low-carb, high fat diet is one way to shed weight naturally, improve your energy levels and combat certain life threatening diseases.
Recently Noakes engaged in a debate with Professor Lionel Opie who challenged Noakes on his high-fat recommendations by saying that the only comparable study done on this was conducted at Cambridge recently and that it needs a proper trial before its findings can be viewed as conclusive which, incidently, Noakes does agree with
So whether it's his views on eating more animal fat or increasing your intake of dairy, especially all the full cream versions, the Tim Noakes diet debate continues and will live to be controversial for many years to come…
.@LaNina16 LIver produces all the glucose you need from fat and protein. No need for any ingested carbohydrate. Our paper on this done soon

— Tim Noakes (@ProfTimNoakes) February 28, 2015
In Support Of Tim Noakes…
– A study published in the SAMJ (South African Medical Journal) concluded that a diet consisting of low-carbohydrate & high fat consumption is able to manage obesity and associated health conditions.
The study analysed 127 communications from individuals who reported significant weight loss, less dependence on medication (type 1 & 2 diabetes sufferers) and reduced (or none) symptoms of irritable bowel syndrome after severely restricting their carbohydrate intake.
– Noakes' diet is not dissimilar to that of Banting or Paleo, both proving to be successful & healthy diets for many, and is therefore not a new fad diet diet.
– William Banting's diet became so popular that his name became a verb for following his way of eating, ie. to "bant" meant going on a high-fat, low-carbohydrate diet.
Tired of being overweight & feeling lethargic?
If so, then get on the Tim Noakes LCHF Paleo styled diet and  Download Your Guide To Paleo which could impact your life by causing you dramatic weight loss & a significant boost in vitality…
Does the Science Support Noakes' New Dietary Recommendations?
Whilst there is no reason to change the thinking behind the the link between the type of food you eat and how it can directly affect your health in terms of your body mass index, heart disease, cholesterol & diabetes, it needs to be examined as to whether Noakes' new dietary views encourage people to replace conventional treatment to the detriment of their' health.
Many of his peers say his LCHF diet is a lesson in bad science…
– Professor Krisela Steyn, associate director of the CDIA,  cautions that "Noakes' diet is particularly dangerous for a certain part of the population at high risk for kidney failure, with high cholesterol or ischaemic heart disease. The general public will also be at increased risk if this diet is followed for a long time. Damage is being done by radically oversimplifying things and not basing public statements on the best available data."
– Dr Vash Mungal, CEO of the Heart and Stroke Foundation South Africa advises that "Any diet that is calorie and energy restricted will reduce weight. But caution should be used when generalising and saying that everyone should eat fats, no sugar and no carbs, especially when there is no long-term data on this, while there is extensive data on the conventional diet."
– A study by Frank Sacks, published by The New England Journal of Medicine, concluded that "Any type of diet, when taught for the purpose of weight loss with enthusiasm and persistence, can be effective."
The results of this research therefore implies that the amount you what, rather than what you eat, is the determining factor when it comes to losing weight.
Lastly, a group of cardiologists and University of Cape Town academics have collectively suggested in a letter that Tim Noakes has overstepped the mark by claiming that his low carb, high-fat diet is suitable for all patients and that his statements regarding the use of statins, a class of cholesterol- lowering drug, are at best unwise and may be harmful.
A typical forum comment lambasting the Tim Noakes diet goes like this "Perhaps Tim Noakes should be tested for Alzheimer's Disease. I think at any rate that he is an opportunistic and egocentric individual hoping to make money out of his radical statements, which personally, I find to be irresponsible, given the gullibility of laymen and women. I sincerely hope that the Medical Fraternity will continue to give him a really hard time and expose his simplistic views."
In response to the above Tim Noakes says that he became aware of a scam 2 years previously that is soon to be exposed – a scam that is not part of conventional medical training.
He goes on to say that he is convinced that he is right, but also remarks that scientists can be wrong and are allowed to be wrong and that "the key is you must not be irrelevant. The fact that I can stir up this controversy is because I'm relevant."
He recently engaged in an entertaining debate with Professor  Lionel Opie at the Franschhoek Literary Festival where Opie said that the only research done comparing the LCHF approach to the low-carb diet was recently conducted at the Cambridge University in England.
As an aside, if you research the Paleo Diet and you'll find that it is not much different to Noakes LCHF diet.
The Low Carb Diet Is Not a New Dietary Concept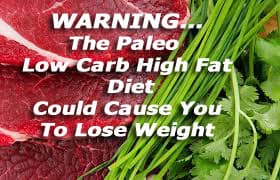 Whilst Tim Noakes has created massive awareness of this new way of eating, it is not a new diet.
In fact he's the first to admit that William Banting, Dr William Harvey and more recently Robert Atkins & Gary Taubes are the ones whose findings, experience & research made him aware of the concept that the human body would perform better, be healthier and be able to naturally lose weight on a low carbohydrate diet.
The well known Paleolithic (Paleo) diet is another diet that essentially only differs with Noakes' views when it comes to the diary aspect – Noakes supports diary consumption whilst Paleo does not.
Noakes says his diet is not a high protein diet but rather a "high-fat, moderate-protein, low-carbohydrate, no-hunger diet".
He goes on to say that the big thing with his way of eating is that by limiting carbohydrates you do not get hungry.
It is carbohydrate that is addictive and leaves you feeling unsatisfied after meals always wanting more leading to progressive weight gain, obesity, diabetes and other health issues.
On a personal note since I've reduced the carbs and cut sugar right out of my diet I certainly feel better, do not carry any fat and am running as quickly as I did 20 years ago.
So you can make up your own mind but one thing's for sure, if you are tired of being overweight & feeling lethargic it's time for you to make some drastic changed to your dietary habits…
The Tim Noakes Paleo Styled Diet Could Be What You Need To Revitalise Your Life & Body…