Most of us who have any knowledge of the Tim Noakes diet will know that he advocates a low-carb, high fat diet however it is useful to know exactly what foods are actually on his red list & to be avoided at all costs.
Furthermore, Tim Noakes' red list contains only foods that are either toxic or high in carbohydrate and those that are non-essential for your health.
In fact those containing large amounts of sugar & fructose as well as other refined carbohydrates are definitely harmful for your health.
Tim Noakes Red List Of Foods To Avoid
This list is not exhaustive but includes the following;
Sugars, Baked Goods & Grains
Grain based fours
Bread
Grains – wheat, barley, oats (rolled oats are generally fine), rye, quinoa
Breakfast cereals, muesli & brans
Couscous
All confectionery – cakes and sweets
Honey
Fructose
Malt
Sugar
Sweets
Syrup
Cordials
Rice
Pasta
Potatoes
Soya
Beverages
Beer & cider
Sodas & fizzy drinks
Diet drinks
Fruit juice (high sugar content)
Fats & Oils
Vegetable oils containing high concentrations of omega 6 fatty acids
All seed oils (sunflower, canola, grapeseed, corn etc)
Sauces (eg, tomato) & salad dressings & mayonnaise
Hydrogenated oils found in margarine & vegetable oils
Meat
Grain-fed meat, factory farmed meat (grass-fed is preferable)
All processed meats
Other
All fast food
All processed food & refined food products
Foods with added sugar
Sweeteners
So called "Fat Free"products as they usually contain high amounts of sugar
Puddings, ice cream, coffee creamers
Soy milk, rice milk, condensed milk
Dried fruit, bananas (high sugar content)
Vegetables High In Carbohydrate (Starch)
White potatoes (sweet potatoes are preferable)
Peas
Peanuts (they are legumes and not actually nuts)
Beetroots
Legumes
Parsnips
If you experience similar improvements in body weight & health that Tim Noakes did by avoiding the foods contained in the red list above you could be feeling healthier & slimmer just by making a committing to some simple dietary changes.
For those who suffer with allergies you will be interested to hear that by cutting out grains & gluten could ease your allergies…
Regarding allergies, Tim Noakes says: "It is also clear that allergies to grains and cereals are more common than realised and I wonder if some of the benefit I have derived might not be due to removal of some undetected allergens in cereals or grains…"
 Some "Green List" Foods
Some of the foods you should be eating & which appear on Noakes' green list include the following;
Eggs (free range)
Fish  (contains essential Omega-3 oils)
Meat (organic or grass-fed beef as well as biltong, game or ostrich)
Dairy Produce (organic, from grass-fed cows)
Vegetables (green, leafy vegetables as well as broccoli, tomatoes, mushrooms, onions, avocado (healthy fats) etc.
Nuts (including macadamias, walnuts & almonds but not peanuts or cashews)
PS. Losing Weight Is More About Hunger Control Than Portion Control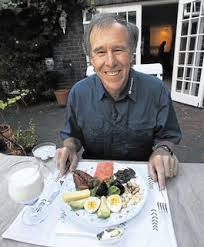 This means that eating foods from the Tim Noakes green list of foods, and avoiding foods on the red list (above), will allow you to eat as much as you like with little danger of over eating without having to reduce the size of your portions as you would be inclined to do on a normal "weigh loss diet".
The reason for this is that real LCHF Banting/Paleo foods & meals are non-addictive and will leave you feeling satisfied without wanting more or still feeling hungry.
Eating foods that leave you satiated is exactly what helps you control your hunger naturally and is also exactly what Prof Tim Noakes keeps on saying about eating low-carb, wholesome foods – they are non-addictive and will increasingly make you look & feel better.
Transform the way you look & feel just by eating a natural, nutrient rich diet…

…get started on your healthy low-carb diet today with this fantastic collection of LCHF Paleo recipes here »