Paleo Fish Cakes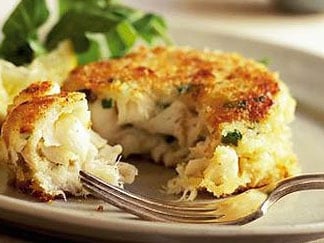 With this recipe you can use any kind of fish but for those who are sensitive to that very fishy taste it is probably best to go for a white fish like hake.
Fish is not only a great source of omega-3 fatty acids but also extremely nutritious.
Another great thing with fish dishes is that you alter the flavour content to your taste as just plain fish with with a bit of organic salt can be extremely tasty.
One of the best things about fish is that it is organic – I don't know if you can get fish from the sea that is not organic unlike vegetables, beef or chicken.
Simple Paleo Fish Cake Recipe
Ingredients
A large chunk of cooking fat such as lard or beef tallow
12 oz (3/4 lb) of fresh Hake fillets
4 large sweet potatoes*
2 eggs
1 tbsp of homemade mustard
2 onions chopped
Sea salt & freshly ground black pepper
Directions
Add the sweet potatoes to a pot of boiling water and cook until soft enough to mash.
Melt the cooking fat into a hot pan, add the fish fillets & cook them through until golden brown and cooked.
Don't worry if the fillets come apart whilst cooking them.
Mash the potatoes together in a bowl.
Break up the fillets into small pieces & mash them into the potato to make a fish/potato mixture.
Mix  the eggs, mustard & onions into the fish/potato mixture & add salt & pepper for taste if required.
You can then create several large (or small) fishcakes with this mixture
Place the raw patties into a hot frying pan lined with fat and cook until crispy and brown.
*The sweet potatoes can be replaced with white potatoes if you prefer & if you do not have digestive problems with eating "simple" carbs.
Eating this fishcake patties on their own is great but to complement them you could serve them with some mixed green vegetables.
P.S. Take a look at the Paleo Recipe Book…

It's a Cookbook that's been created to help you prepare the best Paleo food & contains 350+ recipes, an 8-week Paleo meal plan and covers everything you'll need.