Healthy Chocolate Brownies
These low calorie Paleo brownies provide you with the perfect healthy treat when you are just dying to have something decadent and tasty like one of these healthy chocolate brownies.
For us Paleo and low-carb eaters it's a relief to know, that just because we take our health seriously, there are still plenty of sugar free & gluten free treats that we can indulge in whenever we feel the urge.
After all living the Paleo lifestyle does not mean that you can't spoil yourself with a chocolate delight like these Paleo brownies.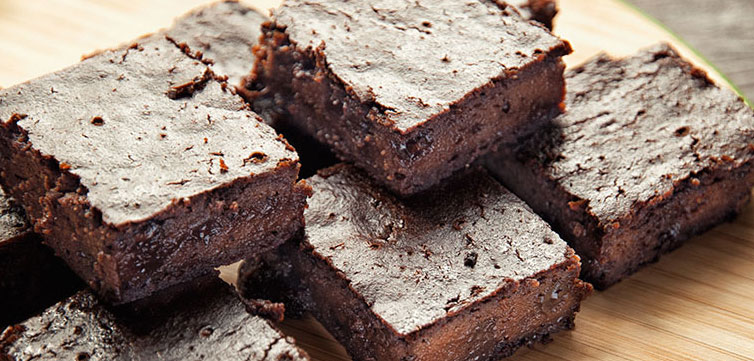 You are in for a real treat with this Paleo brownie recipes as it produces a quite dense, fudge like, chocolate moist brownie that I am convinced you will just love.
Furthermore, this brownie recipe is Paleo & Banting friendly as well as low-calorie, grain-free and contains no cane sugar, grain flour, gluten or other nasty processed ingredients of chemicals.
Paleo Brownie Recipe
Ingredients
½ cup coconut flour
½ cup cocoa powder
½ cup plus 2 tbs of butter which needs to be melted
3 eggs (free-range)
½ cup plus 2 tbs of honey or maple syrup
1 tsp vanilla extract
Instructions
Preheat the oven to 300 & prepare a greased baking dish
Mix all ingredients together with a mixer or blender
Once mixed thoroughly, pour the mixture into the baking dish & bake for roughly 35 minutes – you can test by inserting a toothpick into the middle & if it comes out clean it is ready
Allow it to cool for half-hour or so before dividing it into brownie sized portions
It is best to keep them in an airtight container which can be kept in the fridge if you prefer
I hope you enjoy these healthy, low calorie Paleo brownies, I'm sure you will.
Want more delicious low-carb, tasty Paleo snacks & recipes?

Download this fantastic collection here (with loads of extra bonuses) »