Paleo Shepherd's Pie
You will be pleased to know you can now get this favourite comfort food in the healthy version with this Paleo Shepherd's Pie.
For Paleo and LCHF eaters one of the most difficult foods to cut down on is potatoes which means, for most of us, that the very popular shepherd's pie does not fit into our healthy Paleo eating plan.
Well the good news is that you can put it back on your menu with this Paleo Shepherd's Pie recipe that substitutes the potato, in the traditional recipe, with cauliflower mash or caulimash as it's become known as.
So here's your gluten-free, low-carb Paleo Shepherd's Pie recipe…
Start serving delicious Paleo meals with this fantastic collection of 100% approved Paleo recipes here »
Paleo Shepherd's Pie Recipe
Ingredients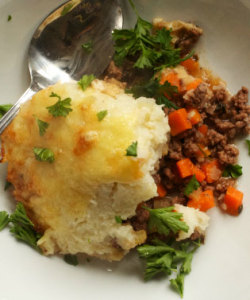 1 head of cauliflower (chopped up into approx 4 cups of cauliflower florets)
1lb ground lamb or beef (grass-fed, organic) – note: Shepherd's pie is traditionally made with lamb but if you prefer beef it won't make any difference
2 tbsp butter, ghee or coconut oil
¼ cup almond milk
1 small onion, diced
2 celery ribs, diced
2 carrots, diced
2 cups of peas
2 cups of chopped kale
2 cloves garlic, minced
1 tbsp homemade tomato sauce (ketchup) or tomato paste
1½ cup beef stock
1 tsp basil
2 tablespoons chopped parsley
add salt & pepper to taste
Preparation
Preheat the oven to 400 degrees.
Grease a large casserole dish and set aside.
In a large pot, steam or boil the cauliflower florets until soft (steaming the cauliflower is preferable to boiling as it helps retain the nutrients which can be washed away during boiling)
Heat 2 tbsp of the fat in a large skillet over medium high heat.
Add the onion, celery, carrots, peas, kale & garlic and cook for approximately 5 minutes until soft.
Add the lamb or beef to the pan & cook until browned.
Add beef stock as necessary to keep the mixture wet.
Add the tomato sauce, parsley & basil and season with salt & pepper.
Let simmer while you prepare the cauliflower mash topping.
To make the caulimash, drain the water from the steamed or boiled cauliflower.
Mash or puree with a stick blender, whilst adding the milk & butter, until smooth.
Season with salt and pepper.
Put the mixture into the bottom of the casserole dish & spread the cauliflower mash evenly over the top.
Bake for 30 minutes until the top is brown and bubbly.
I really hope you enjoy this warm, hearty Shepherd's Pie which is the ideal dish to serve on a cold day and guaranteed to leave you feeling full & satisfied.
As it's the healthy, gluten-free, low-card Paleo version, you can eat as much as you like without impacting negatively on your weight or health (unlike the traditional one made with potato & other less than healthy ingredients).
PS. Want More Healthy Low Carb, Gluten Free Recipes?
Take a Look At This Mouthwatering Collection of Paleo Recipes »