Tim Noakes Diet
Wondering why anyone wanting to lose weight is talking about the Tim Noakes diet menu plan?
Well since Prof Tim Noakes has shot to prominence through his low-carb, high fat Banting styled diet everyone wants to know how the "Tim Noakes diet" worked so well for him and what it can do for them.
Not only has he managed to dodge diabetes with this new Banting eating plan of his, but he has also shed a significant amount of weight to the point of looking lean & mean – some would say skinny.
He does however go to great pains to point out that those who do not suffer with CR (Carbohydrate Resistance), to the degree that he does, do not have to be as ruthlessly carbohydrate restrictive as he is.
In other words, as he is predisposed to adult-onset diabetes (type-2 diabetes), he has cut carbs out of his diet completely but others who are not as intolerant to carbohydrate can eat complex carbs in moderation without it having a dramatic effect on their weight or health.
Food That Is Not On the Tim Noakes Diet
Sugar – everyone should avoid eating sugar in all its forms
Drinks containing sugar including sodas, cola drinks, fruit juice
Pasta & Pizza (unless it is Banting friendly like this Cauliflower Banting Pizza Recipe)
White rice – if you have to eat rice make it brown
White potatoes – substitute with sweet potatoes if you have to
Oats – if you have to eat porridge rolled oats will be better for you
Breakfast cereals in all their form – high in sugar*
Fruits that are rich in sugar especially bananas
Pastries, cakes, sweets & other treats
Sugary desserts (which includes most)
Artificial sweeteners – watch out for diet drinks or fat-free products as they often contain sugar & other nasty chemicals to make it taste better
Vegetable oils – for instance Sunflower Oil which is high in harmful Omega 6 fatty acids
* Many would argue that breakfast cereals are full of healthy vitamins & essential nutrients but Noakes says "Some dieticians argue that whole grain cereals should be included because they are "healthy" but I have had difficulty finding whole grain cereals that have not been heavily refined."
The Tim Noakes Diet Menu Plan Comes From These Food Groups
Eggs (free range) are full of good nutrients & keep you feeling full for longer
Fish which an excellent source of Omega-3 fatty acids (as opposed to the more toxic Omega-6)
Meat (grass fed is best) but beef or game including Ostrich meat
Dairy including full cream milk (not skim), cheese & yoghurt (not the fat-free version) from grass fed cows to avoid chemicals.
Vegetables of the green leafy type that are low in carbohydrates like lettuce, broccoli, tomatoes, mushrooms, onions, avocado (healthy fats) and others that are rich in nutrients as well as having a low-carb content.
Nuts, including almonds, macadamias & walnuts but not peanuts (which are legumes) or cashew nuts (high in carbs).
Fruits especially those rich in colours (red berries etc) & apples but try & avoid those high in sugar (carbs) content.
Liquids include water, tea & coffee (unsweetened)
Typical Breakfast, Lunch & Dinner Meals For Noakes
To get an idea what the Tim Noakes eating plan looks like these are examples of what he eats during a typical day…
Breakfast – according to Noakes he has eggs, bacon & sausage for breakfast or cheese, yoghurt as well as a protein-fat meal leftover from the previous evening's meal.
Lunch – for lunch he snacks on cheese, nuts, biltong (fatty, biltong is even better)
Dinner – For dinner he chooses one of the delicious meals from his book, The Real Meal Revolution, which will invariably include either meat, fish or chicken with a good serving of healthy vegetables.
According to Noakes there is absolutely no need to eat more than ~200g of carbohydrate per day even if your are extremely insulin sensitive & able to metabolize carbs without any issues – this even applies to elite athletes
He Also Says…
He also makes a point of saying that he restricts himself to no more than 75 grams of carbohydrate a day which, he says, allows him to regulate his body weight effortlessly without getting hungry & wanting to eat more – carbs are addictive & usually leave you unsatisfied & wanting more.
Furthermore, he gets his measly intake of carbs from highly nutritious vegetables & dairy produce.
However he goes on to say that not everyone needs to restrict their carb intake so severely – in fact others may be advised to make a different choice when it comes to the amount of carbohydrate they ingest.
Whatever choice you make you would be well advised to get onto this type of diet as it could help you achieve the body shape & energy levels you desire.
Losing Weight Is About Hunger Control, Not Portion Control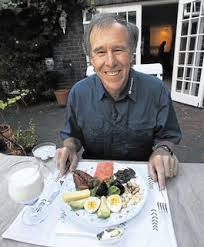 The beauty with the low-carb Banting styled Paleo way of eating is that you can basically eat as much as you like with little danger of over eating…
…this is because real LCHF Paleo foods & meals are non-addictive and will leave you feeling satisfied & satiated without wanting more or still feeling hungry.
This is exactly what helps you control your hunger naturally and is exactly what Prof Tim Noakes keeps on saying about eating low-carb, wholesome foods – they are non-addictive and will make you feel & look better.
PS.
It's very important to remember that all your good intentions of following a healthy diet will soon unravel unless you have a wide range of low-carb recipes always available to keep mealtimes interesting & exciting.
So don't sabotage your healthy eating plan by running out of exciting low-carb recipes.
If I could come up with an exciting range of low-carb, gluten-free & nutritious recipes for all meals, this would be it…

Download This Fantastic Collection Of Banting Styled LCHF Paleo Recipes here »
(includes an 8-Week Meal Plan)