Tim Noakes Styled Banting Recipes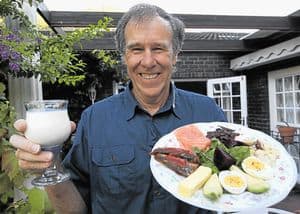 Professor Tim Noakes has gained a huge amount of notoriety for his views on what constitutes a healthy diet for many reasons not least of all due to his personal experience.
Since embarking on his low-carb, high fat diet he has not only dodged diabetes but has lost a significant amount of weight & gained feelings of youthful vigour.
So, notwithstanding all the controversy regarding his views on diet, here are some typical Tim Noakes recipes for breakfast, lunch & supper.
While these recipes may resemble those found in the Real Meal Revolution, it should be noted that they are no way endorsed or meant to represent Professor Tim Noakes in any way
A Typical Tim Noakes Breakfast Recipe
Anyone who has heard Tim Noakes talking will probably have heard him say that eating eggs for breakfast will keep you feeling full for longer.
Not only will they keep you satisfied but they are also full of healthy nutrients that will do you a power of good.
With the eggs he also advocates bacon with the fat – he specifically says that you should not cut off the fat as fat is a fantastic fuel for you body to operate on & also contributes to you feeling satisfied & not wanting more.
Noakes says: "I eat eggs, bacon & sausage for breakfast or cheese, yoghurt and the previous night's fat/protein meal,"
So here's one of his breakfast ideas…
Fried Eggs With Chorizo & Kale

If you're not sure you've heard of it, kale is one of those superfoods packed with nutrients & antioxidants that you should eat more often – you owe it to your body.
It is also a great substitute for  spinach which is more expensive.
The chorizo is included to balance the strong flavours of the kale.
Ingredients
200g raw kale or spinach (washed & chopped up)
1 x thickly sliced "horseshoe" chorizo – if you can't get chorizo you can substitute with chopped up pieces of pork suasage
⅓ Cup of water
80g Butter
8 x Eggs
Directions
Slowly fry the chorizo in butter melted on a pan
Once golden brown remove the chorizo from the melted butter in the pan
Turn up the heat & fry the kale in the same butter until it starts wilting
Pour the water in & let it boil until it has almost all evaporated
Pile the kale up into a nested mound & crack the eggs into the nest – if you prefer you can fry or poach the eggs seperetley & add them to the kale afterwards
Cover the pan & cook slowly for about 3 minutes
Once the eggs are done slide the kale (with the eggs) out of the pan onto a plate & garnish with the fried chorizo
Noakes also advises to pour any excess juices from the pan over each serving
Tim Noakes Lunch Ideas
For lunch, Tim Noakes says he snacks on cheese, nuts & biltong but if you feel like having something more here's a delicious LCHF lunch recipe for you…
Trinchado On Sautéed Vegetables

Ingredients
500g Beef rump cut up into cubes
50g Unsalted butter
1 Large red onion chopped
1 Tbsp garlic & chilli paste
1 Cup of beef stock
1 Cup green olives
1 Squeezed lemon (juice)
1 Tbsp paprika
1 Handful of chopped parsley
1 Bay leaf
For the sautéed vegetables
50g Butter
3 Tsp capers
1 Large chopped red onion
2 Chopped red peppers
1 Chopped yellow pepper
4 Courgettes cut into pieces
Then sauté the onion, peppers & courgettes in the butter over a medium heat until they caramelise
Add the capers & serve with the trinchado
Directions
Oil & season the beef cubes
Place the beef cubes into a hot pan & leave them to colour
Remove the beef before they're cooked to medium rare & allow to cool
Add the onion & butter to the pan (the beef cubes were in) and sauté them until golden brown
Then add the olives, beef stock, squeezed lemon juice & paprika and boil until reduced to half the volume
Add the chopped parsley to the pan & place the beef cubes back in the pan to warm
Once warm & cooked to medium it is ready to serve
What Noakes Could Have For Dinner
Poached fish for dinner is a favourite…
Not only is it really healthy, think omega-3 fatty acids, but it is also light on the stomach & makes for a great evening meal.
Poaching the fish also makes it far less likely to dry out – oily fish like salmon, trout & haddock (also very healthy) are better for poaching.
Poached Fish & Greens

Ingredients
2 portions of 180g of fish suchas salmon, trout, haddock, mackerel…)
1 Cup of white wine
750ml Water
1 Bay leaf
5 Peppercorns
1 Sprig of thyme
1 Handful parsley
Zest of lemon
60g fine beans
60g Mange tout
50ml Cream
2 tbsp capers
100g Butter
1 Tbs. minced fresh ginger (optional)
3 Tbsp thinly sliced green onions (optional)
Directions
Place the water, wine, bay leaf, peppercorns, thyme, parsley & lemon into a pot
Bring it all to a boil & then allow to simmer for about five minutes & then turn the heat down but not off
Blanche the beans & mange tout in it & freshen them with cold water
Drop the fish pieces into the stock for 5 minutes & then remove
Remove all the solids from the water & reduce it to less than a cup by transferring it to a pan
Add the cream & capers & reduce until it is thick
Add the butter & fish to the pan whilst shaking it continuously
lastly add the beans & mange tout
Warm through & serve
References & Acknowledgements:
Real Meal Revolution http://realmealrevolution.com/
Tim Noakes https://en.wikipedia.org/wiki/Tim_Noakes
Want More Delicious Low-Carb Recipes?

Download This Fantastic Collection Of LCHF Banting Styled Paleo Recipes here »