Paleo Banana Pancakes (Banting Pancakes)
These Banting, gluten free, Paleo banana pancakes allow you to enjoy this favourite dessert, breakfast or snack without having any feelings of guilt.
In fact the ingredients to make these delicious Paleo pancakes, which are naturally free of gluten, wheat & grains, all fit into the healthy Paleo list of approved foods.
So if you are concerned about your weight or health, these delicious pancakes will leave you feeling full & satisfied without causing sugar cravings or wanting more & more.
These banana flaxseed pancakes are packed with loads of protein, fiber & Omega-3 provided, in particular, by the eggs and ground flax seed.
Paleo Banana Pancakes Recipe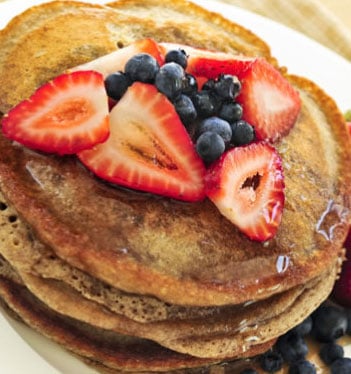 Ingredients
1 Egg
1 Ripe banana mashed (for those on the Banting diet, go easy on the banana due to the relatively high sugar content)
2 Tbs almond butter
2  Tbs ground flaxseeds
Coconut oil
Fresh blueberries, fruit & nuts for serving (optional)
Preparation
Whisk the eggs in a bowl & then add the other ingredients (except for the coconut oil) and combine well until the mixture is smooth
Pour some of the coconut oil into a non-stick frying pan on low-medium heat
Place a scoop of pancake mixture into the frying pan
Cook for approximately 1 to 1 ½ minutes, or until it starts to bubble, before flipping over with a spatula and cooking for the same amount of time on the other side
Serve immediately with some chopped fruit, berries & nuts if you like
Whilst these pancakes aren't light & fluffy like the traditional (unhealthy) ones, they're extremely tasty & satisfying – give them a try, I'm sure you'll love them.
Want More Healthy LCHF Gluten-Free Paleo Recipes?

Download This Fantastic Collection of Delicious Paleo Recipes Here »